It's Payback Time!
The following shows the victim's testimony, then I show you the documents that were hidden by Pennsylvania which proves the victim's false testimony and perjury. All this evidence was shown to the Supreme Court and was shown clear enough for the simplest of minds but obviously went over the heads of the judges seated on the Supreme Court. This is appalling decide for yourself.
Preliminary Court Documents – year 1995
          
Here's the evidence more readable from Preliminary Court Documents above, concerning the false testimony that was shown on Pages 132-134 in my Petition to the U.S. Supreme Court:
This was sworn testimony by Kathryn at the preliminary hearing with my attorney asking the questions in 1995:
My attorney: When you were younger you had to go talk to people from Rape Crisis when you were younger?
Kathryn answers: NO
My attorney: Do you remember talking to a counselor when you were younger?
Kathryn answers: Yes But they never asked me about — if I was ever sexually abused?
       Here's part of the Police Report – concerning four boys with a knife: proving her false testimony/perjury when she was younger in 1987.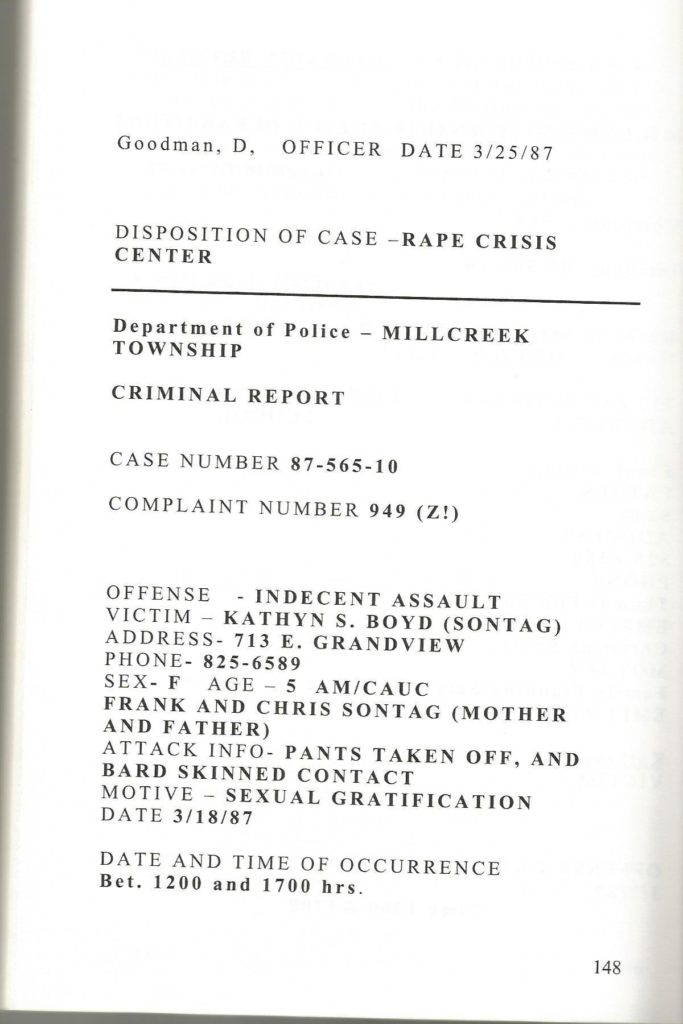 ask
Please Note:
This 1987 Police Report involving an indecent assault and rape counseling was completely erased from Kathryn's memory by her mother and others. Kathryn was five years old at the time of this police report and six years later this police report and the sexual counseling was denied and replaced with a totally different assault story.
How the Supreme Court of the United States dismissed PA's fraudulent conviction makes this a criminal conspiracy by our American legal system: it is heinous and appalling!
Maybe Kathryn thought she had to go the Rape Crisis Center for ice cream? She said they never asked if she was sexually abuse?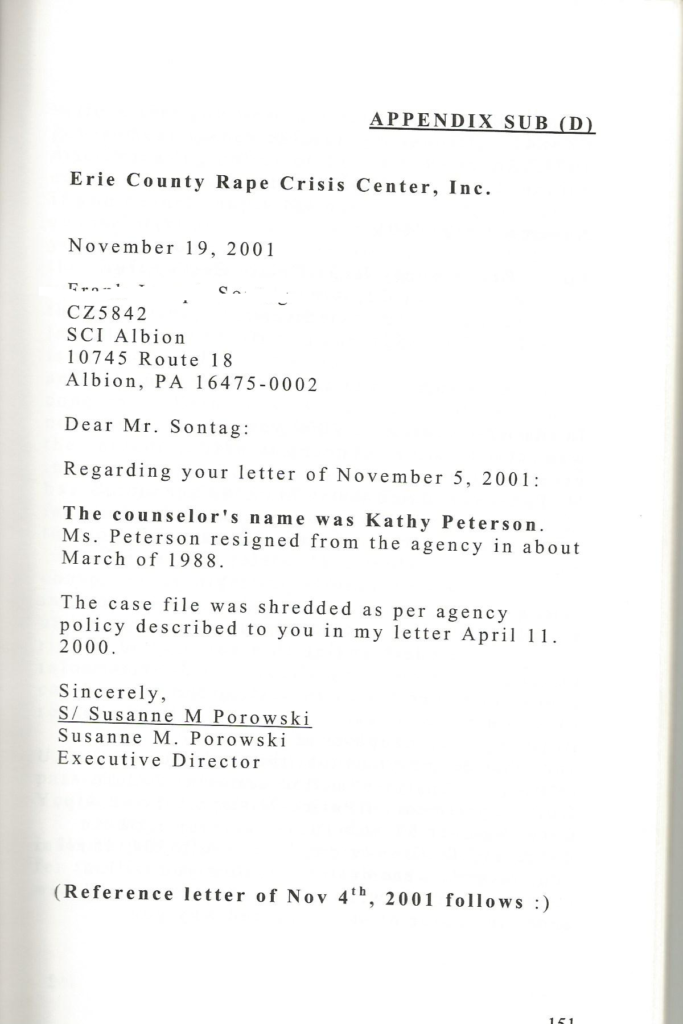 Here's the letter she was regarding on Nov 5th 2001 not the 4th:
The 4th was a typo error on page 151 to U.S. Supreme Court.
[/su_expand]
Please note that the Rape Crisis Center was required by law to report this to the Erie County and Youth Service Agency and although my attorney filed a motion for discovery to them for this evidence and was granted a hearing to show cause it was finally denied because the Commonwealth of PA said they had supplied all discovery when obviously they did not. The Commonwealth of Pennsylvania knew false testimony was my only defense and they killed every path to discover the false testimony including fraudulently lying to a Federal Court of Law to keep it hidden. Thus our American Legal System is a fucking joke and they protect their fucking members like dictators do. When the United States Supreme Court fucked me I went out of control for a while, now I'm out to fuck them if I can get the American People to help me get rid of these imbeciles.
This protectionism is repeatedly seen today with our legal authorities protecting some cops who are committing murder when they were investigating misdemeanors crimes – hey your tail light was out shoot the fucker or he was breaking windows shoot the fucker: what the hell is going on? Who would have ever thought we might be getting closer to being more afraid of being shot by a police officer than a drug dealer? Our legal system is out of control – we need to act now!
If you have any ideas on this send them to:  editor@frankgoesnuclear.com