It is simple the Commonwealth of PA told the Federal Court that my new found evidence proving perjury of the State's key witness was dismissed in the lower court and the Federal Justice Sue Baxter would hear nothing else. But a legal investigation of the entire lower court record proves it was not dismissed in any lower court as proven in

My Smoking Gun

evidence below. This evidence was submitted to the Supreme Court showing that I had repeatedly filed motions claiming that the Commonwealth of PA fraudulently lied and committed fraud upon a Federal Court. And even the United States Supreme Court would not do a damn thing about it. So I started asking myself what the fuck is going on with these assholes.
Here's just one of my Motions I filed in her freaking court and yes, the Commonwealth committed the crime of fraud upon a court but this Federal Court is just as guilty as the Commonwealth.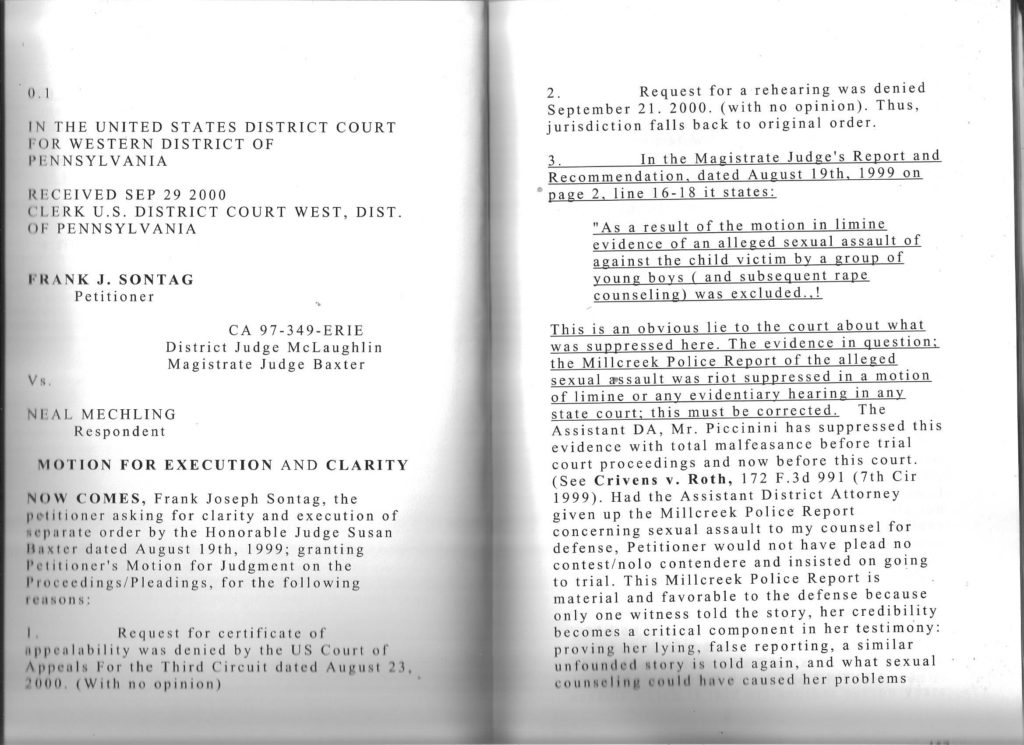 Judge Baster states in the record above: As a result of the motion of limine the evidence of an assault and subsequent rape counseling was excluded. This evidence showed the perjury of the State's key witness and this bitch refused to grant me a hearing to prove it. The perjury was that Kathryn had denied a sexual assault and sexual counseling under oath and had replace it with a totally new assault in the same year. The sexual counselor could have confirmed Kathryn's perjury but the Commonwealth had no intention of having that entered into the record which would have exposed their fraudulent actions of hiding perjury evidence of the Commonwealth's key witness.

Yes Justice Susan Paradise Baxter denied it repeatedly – she wrote in the record that it was not her duty to investigate any Fraud upon her court or words to that affect. She even stated in the record that the DA did not supply any proof that it was really excluded. You will soon see below that it was not excluded as I had the entire lower court records searched for any Motion of Limine that would have excluded my perjury evidence. I almost committed suicide every time I read that she wouldn't grant me a Motion to verify the PA fraud upon her court.  Yes her Federal Court is truly out of control and it proves just how sick some of judges are in this country.

The following is the SMOKING GUN PROOF

against

the Commonwealth of PA that they did indeed lie and committed fraud upon this Federal Court to hid their fraudulent conviction for misdemeanors. The following evidence was indeed shown on pages 144-146 to  our U.S. Supreme Court and they willfully and wrongfully dismissed it. See for yourself, it would seem to be solid evidence for the lies and fraud upon a court: at least for IQ's higher than 70. Someone at the Supreme Court is fucking crazy.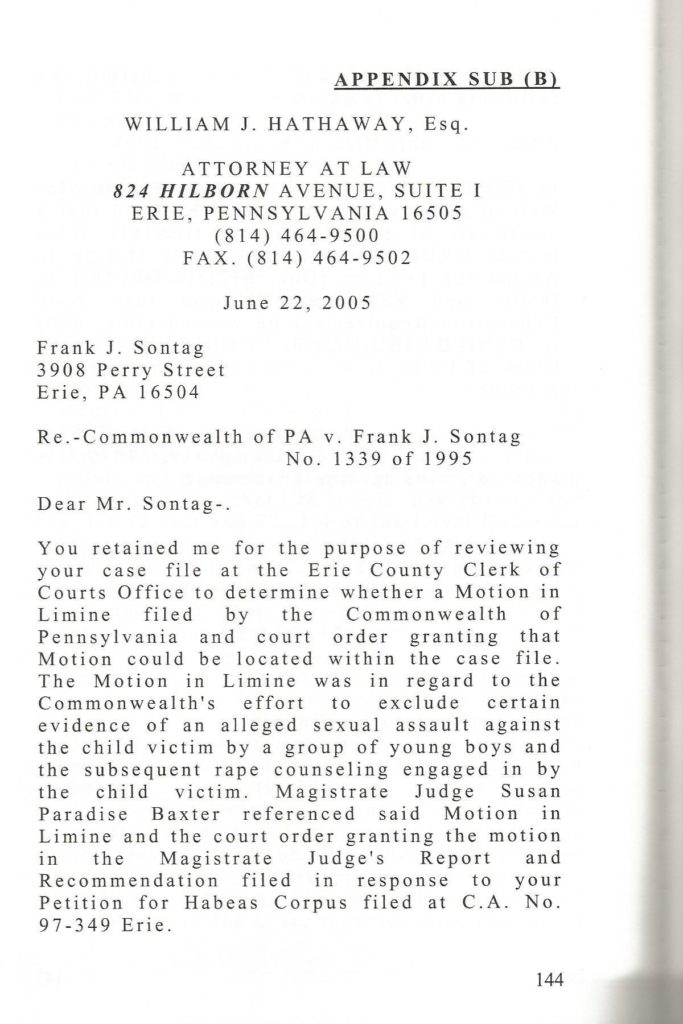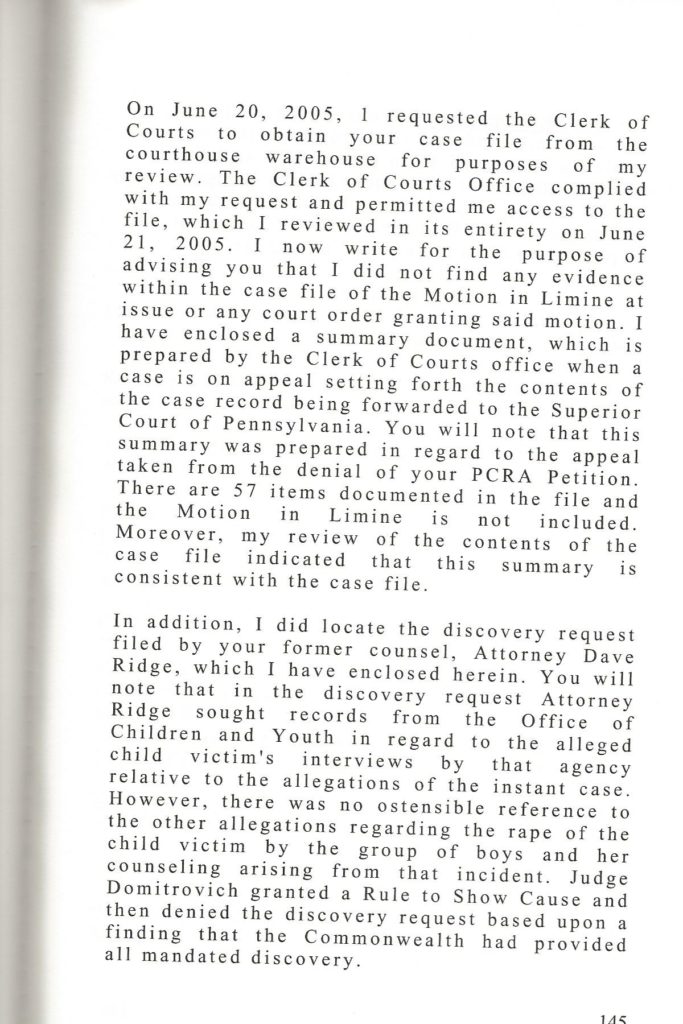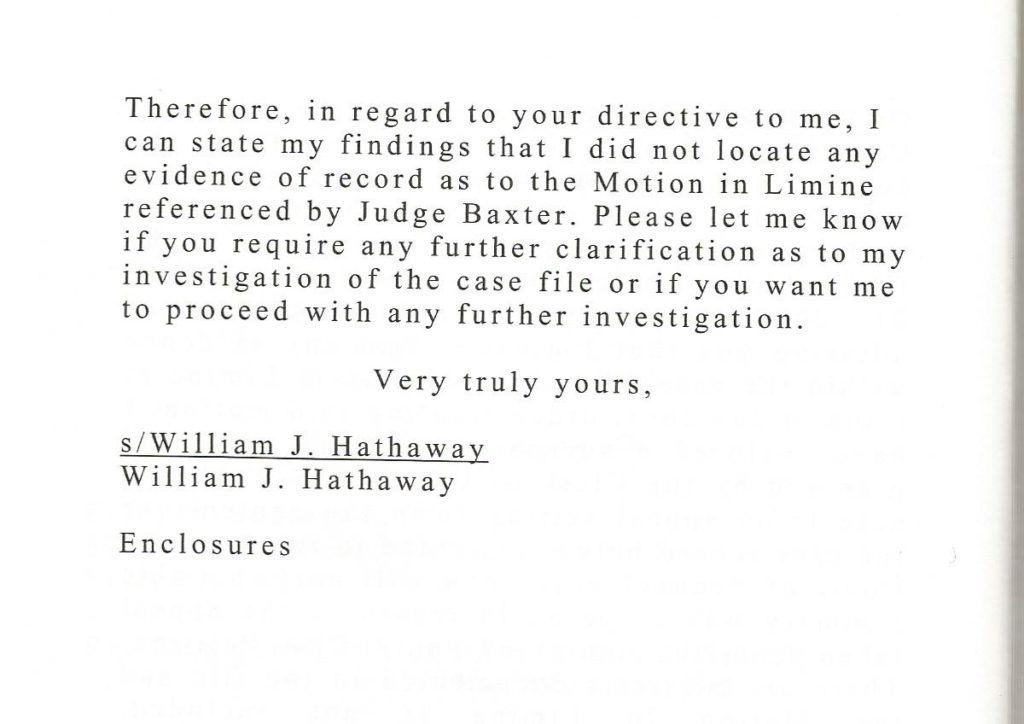 So their law now states that a Commonwealth can commit repeated fraud and any perjury evidence of their key witness can be dismissed if they rule it.

Say again

: So their law now states that a Commonwealth can commit repeated fraud and any perjury evidence of their key witness can be dismissed if they rule it. How's that for being fucked up?
Then I showed this bitch Baxter the Brady Law and she rules: Brady Court refers to nondisclosure of exculpatory evidence to defense counsel, she implies again that Frank must be fucking retarded because that is not the case here, the exclusion of evidence at trial by way of an evidentiary ruling by the trial court. How in god's name could anybody believe that exculpatory perjury evidence of the State's key witness was somehow dismiss in a trial court: you have to be fucking nuts I guess. Obviously nothing ever dawns on this bitch when a DA friend tells her, it was dismissed. Maybe now you will see why I'm so fucking pissed off about the system? I can't sue her because of her god damn immunity but she did commit a serious obstruction of justice and should be impeached and disbarred.

I later sent all this evidence back to the trial judge and that mother fucker Ernest DiSantis Jr. said I submitted the perjury evidence too late. Again I state: how can perjury evidence ever be dismissed when it involves key witness testimony especially when a fucking state like Pennsylvania says one person's testimony is enough for conviction? 
How can any Judge be so full of shit and so biased?