It's Payback Time!
Here's the Evidence from Pages 132-134 in my Petition to the U.S. Supreme Court, I showed her false testimony:
Part of transcript from these pages – At preliminary hearing my attorney asks the victim:
My attorney: When you were younger you had to go talk to people from Rape Crisis when you were younger?
Victim answers: NO
My attorney: Do you remember talking to a counselor when you were younger?
Victim answers: Yes But they never asked me about — if I was ever sexually abused?
       The following evidence was kept hidden fraudulently by Pennsylvania because it proved false testimony. When I found the false testimony evidence and presented it to a Federal Court, PA told the Federal Court it was suppressed in the lower court when it was not. PA needs to be exposed and punished.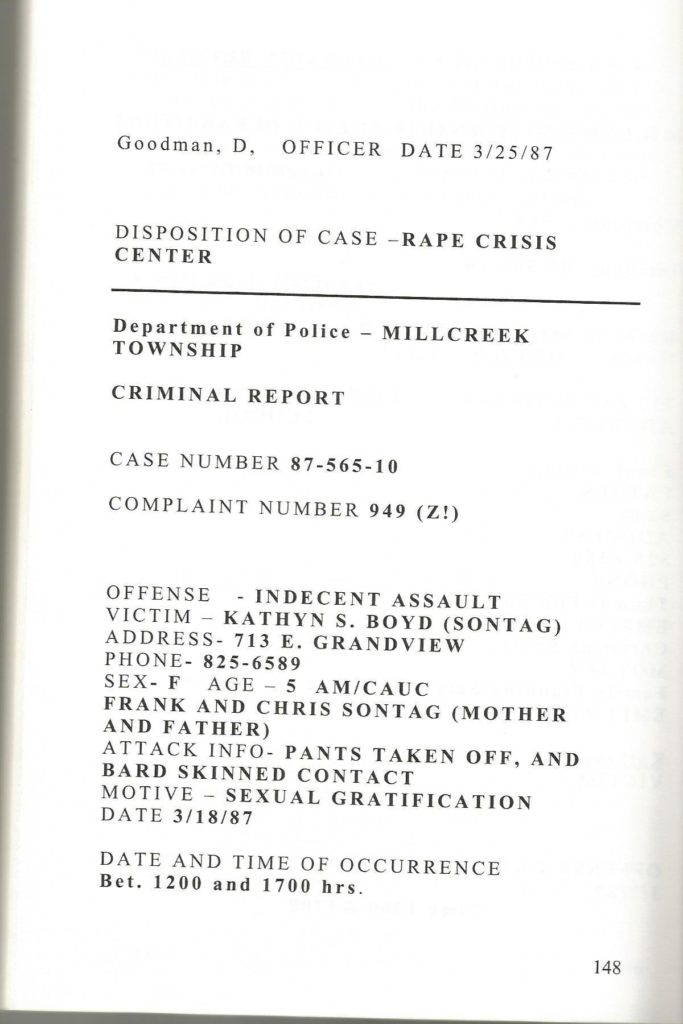 Please Note:

the victim denies any police report for indecent assault by four boys with a knife and subsequent Rape Crisis counseling and totally replaces it with a different indecent assault story with serious death threats against someone else. How Kathryn deals with these false memories remains a mystery but she was forced to believe that I was going to kill her which was orchestrated by her mother using forged life insurance policies . The charges recorded by PA detailed a new indecent assault charge with death threats and the detailed story of abuse ran from 1986 through 1988. This 1987 Police Report involving an indecent assault was completely erased from Kathryn's memory by her mother and others. The railroad conviction began when the Commonwealth of PA saw the false testimony and then they had to commit fraud in a Federal Appeals Court
to cover their ass. How the Supreme Court of the United States then dismissed PA's fraud makes this a criminal conspiracy by our American legal system: it is heinous and appalling! These criminal acts were committed by the highest court in America, the United States Supreme Court!
Rape Crisis confirms False Testimony here!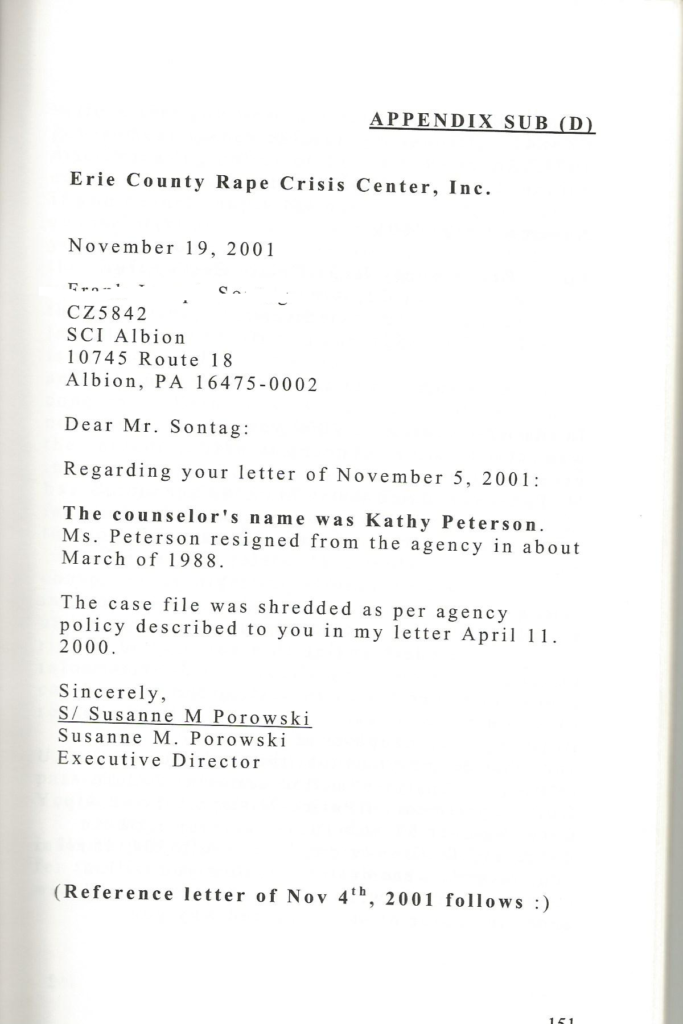 Here's how I got the above hidden evidence with the reference letter dated Nov 5th, 2001 not the 4th as referenced:  
Please note also the Rape Crisis Center was required by law to report this to the Erie County and Youth Service Agency and although my attorney filed a motion for discovery and was granted a hearing to show cause it was denied because the Commonwealth of PA said they had supplied all discovery. The Commonwealth of Pennsylvania knew false testimony was my only defense and they killed every path to discover false testimony including their lying to a Federal Court to keep it hidden. You can't get a fair trial in that State, never take a plea there, always demand a jury trial and for your sake, research as many attorneys as you can and stay completely away from politically connected attorneys they are the worst.
If you have any ideas on how to fix this, send them here:  editor@frankgoesnuclear.com
When you read all this evidence – vote on the American Legal System